What's In a Name-Change?
Shernett Martin says her latest impetus for activism came with the murder of George Floyd, who died last May with the knee of a Minneapolis police officer on his neck. Her group, now called African-Canadian National Coalition Against Hate, Oppression and Racism (ANCHOR), joined in support of Black Lives Matter, participating in six marches in as many months.
One march, at the York Region District School Board (YRDSB), was held to push that Board for more support in de-streaming Black students and others from different backgrounds, kids who all too often wind up in lower-level high school programmes. The march was also to highlight the need for curriculum change to reflect the history and experiences of those students and their families. But, mainly, it was about changing the name of Vaughan Secondary School.
Why do we go along with assumptions about names of streets and buildings and towns until someone stops to ask why? Dundas is a town just outside of Hamilton and also a long street running through Toronto, until someone points out that it's the namesake of Henry Dundas who fought to expand the British slave trade in the Caribbean during the late 1700s. Similarly, the name of Canada's first prime minister, John A. Macdonald, graces the fronts of many schools and institutions, even though Macdonald was the architect of the Residential School System, at the centre of Indigenous genocide in Canada.
And then there's Vaughan – one of the many towns north of Highway 401, once thriving farming communities on their own, now mixed together in an agglomeration called York Region. There's so much more to a name, as Shernett Martin and Charline Grant from the group Parents of Black Children argued last June.
Benjamin Vaughan (1751- 1835), for whom the town and school was named, was born into a family of slaveowners. According to his family papers, about 300 enslaved people were forced to labour on the Vaughan family's plantations in Jamaica. Benjamin Vaughan,1 elected to the British Parliament in 1792, was adamantly opposed to the abolition of slavery and the emancipation of slaves, something that he pronounced would bring an end to civilization in Jamaica. He thought that Black slaves weren't ready to be freed. How could his name be less suited to appear on the sign of any secondary school in a diverse community like York Region?
It looks like the York Region District School Board took community demands for a name change seriously. By September 15, a report from Director of Education Louise Sirisko recommended the move, and the Board voted to change the name of Vaughan Secondary School. It's worth noting that YRDSB chair at the time, Juanita Nathan, said, "It is important that our education system is responsive to the lived experiences of all of our community members, including students and families of our Black community."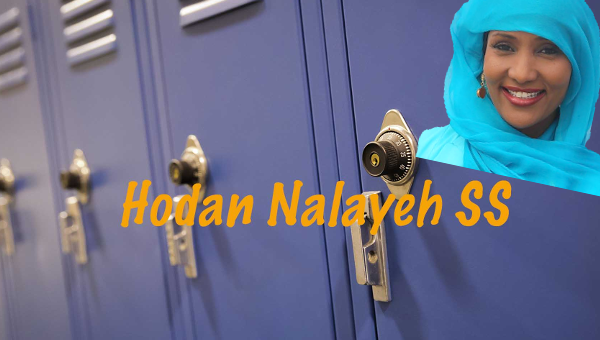 Redressing History
The board has had problems with racism in the past, according to Desmond Cole's book The Skin We're In. In 2016, then Board chair, Anna DeBartolo, cancelled a demographic survey that would have included statistics on issues like suspensions and expulsions according to race and ethnic background. It would have enabled staff to address disparities based on those factors. Soon after, she disbanded the local equity committee. A local principal, Ghada Sadaka, was accused in 2016 of posting anti-Muslim and anti-refugee comments and videos on her Facebook page. Results of an investigation into these allegations were not released by the Board, and Ms. Sadaka was moved to another school. It wasn't until 2019 that the Ontario College of Teachers (OCT) decided that she had "engaged in acts of professional misconduct as alleged." She was issued a reprimand.
The most publicized racist incident occurred in November 2016, when former trustee Nancy Elgie called community activist Charline Grant a "n—–" while Ms. Grant attended a meeting to bring herself up to date with Board equity polices. After denials, then acknowledgement, then an offer to stipulate her own punishment for saying what she said, Ms. Elgie finally resigned her trusteeship. Soon after, the YRDSB fired its Education Director Philip Parappally after a provincial investigation condemned his handling of racism within the board.
The York Region DSB had good reason to get it right: renaming a high school in a respectful way that gave voice to the people most affected by a slave owner. Unfortunately, that's not how it worked out.
Who Counts in Consultation?
To find the best name for the high school, the Board sent out a survey to students, families, alumnae, staff, board advisory committee members, community groups, and associations, along with the school community. Of 992 submissions accepted, 42 per cent opted for activist Hodan Nalayeh. She was also most people's second and third choices. Holocaust survivor and author Elie Wiesel was in next place by 17 per cent, along with others like NBA star Andrew Wiggins, Black civil rights activist Viola Desmond, and anti-slavery activist and teacher Mary Ann Shadd.
Hodan Nalayeh was a Somali-Canadian journalist and broadcaster who lived in Vaughan and highlighted the contributions of the Canadian Somali community to Canada. She was killed in July 2019 along with her husband, Farid Juma Sulieman, during an attack on her hotel in the Somali city of Kismayo. As Ms. Nalayeh told Toronto.com in 2014, she launched her CITY-TV show Integration: Building a New Identity to tell the stories of the people in the Somali community, stigmatized by racist views; whose young people needed support as well as others to look up to. She went on to host the show Integration on OMNI-TV. Journalists for Human Rights (JHR) posthumously awarded her its 2019 JHR Award in Extraordinary Achievement in Human Rights Reporting.
As trustee for the school, David Sherman had the responsibility for putting forward a new name, but he didn't like the results of the survey. He told the Toronto Star that "certain groups" who supported Ms. Nalayeh's name for the school were from outside Canada. When I asked him for more information about the claim, he wrote to tell me that "a number of submissions were completely unaffiliated with York Region or the former Vaughan Secondary," though he didn't specify how many. Trustee Sherman complained that people in his school community were ignored. He said that he had reached out to "dozens of community organizations," though he didn't mention names, adding, "Sadly, some of those chose to attack members of the local school community that didn't agree with them…" Again, there were no details to support this claim.
Mr. Sherman also told the Toronto Star that the Vaughan African Canadian Association – now called ANCHOR – opposed having Holocaust survivors on the shortlist for names. He offered no evidence to support this allegation. Shernett Martin of ANCHOR told me that her group had no objections to a Holocaust survivor for the name of a school. It's just that the community chose another name. She thinks that the trustee wanted to "counterpunch with other options" for names, since he didn't want to see the school named after Hodan Nalayeh.
A week ago, Trustee Sherman presented his recommendation for a school name to the Property Management Committee, a group of trustees charged with forwarding the final choice to the York Region DSB for a vote. After claiming that Elie Wiesel was the most requested name from the school community, his choice was – curiously – anti-slavery activist and teacher Mary Ann Shadd because it "rectifies the impact of Benjamin Vaughan" and, according to him, had the most local support.
A perfectly fine choice, just not the one most people wanted – so argued the other trustees on the committee. It was also clear that they weren't buying Trustee Sherman's claim that the survey was rigged. Dr. Elizabeth Sinclair, the only Black trustee on the board, said she wasn't in favour of using Mary Ann Shadd's name because "it's not the people's choice and the people's choice should come first." She added, "By going against the people's choice, it's like a slap in the face to the Black community."
Charline Grant, founder of the advocacy group Parents of Black Children agrees. Why propose another name further down the shortlist when it's clear who most people want? She thinks Trustee Sherman was trying to divide the community: "The most disgusting part of this is the attempt to pin the members of the community against one another." Renaming a school never needed to be such a contentious effort. The whole business of defending the choice of Hodan Nalayeh amidst accusations of survey fiddling, anti-Semitism, and other attacks undermined any good intentions the Board set out with in September. Shernett Martin adds, "It should never have been such an intense performative ordeal."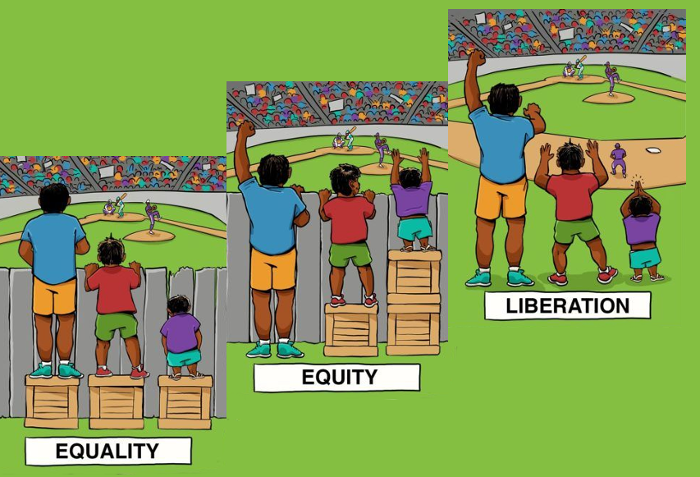 Equality vs Equity
Ms. Grant also makes a critical point: consult the people most affected. In this case, it was the Black community whose ancestors were slaves. This is crucial because it sets up the distinction between equality – making sure everyone gets a say – and equity, ensuring that the people most harmed, whose lives and communities were savaged for generations and who continue to be affected – ensuring that those people's thoughts need to be top of mind. It surely outweighs Trustee Sherman's complaint that people at his school weren't given enough consideration.
That principle of equity is certainly something that the only First Nation in the area, the Chippewas of Georgina Island, understands. And bear in mind that when it comes time to rename Sir John A Macdonald PS in York Region, they will be keenly interested. In January, Chief Donna Big Canoe wrote, "When a school name has been discredited and removed due to uncovering a name that contributed to racial injustice, it is our strong feeling that in order for corrective action to occur, the school should be renamed after and in consultation with the group of peoples in which the name did harm. In the case of the previous Vaughan Secondary School, we urge the board to consult with the local Black community and hear their voice on the choosing of a name."
YRDSB chair Cynthia Cordova wrote in an open letter to the community: "Our words and actions have not consistently aligned with the intentions with which we began the renaming process last fall." She explained that the process wasn't clear to the people in the community, who saw the survey as a vote and were upset when it turned out that it was just part of a process. But I think she ought to listen carefully to the thoughts of Chief Big Canoe if she wants to find an equitable way to redress wrongs in the future. To be equitable, the process needs to be clear about the intention to put the people most affected by history at the top of the list for consultation.
In the end, most of the trustees at the YRDSB understood this. Trustee Bob McRoberts told fellow trustees on the Property Management Committee last week, that "if it were not for the lobbying efforts, the advocacy, the persistence and the concern initiated and expressed to us by the Black community, all during a pandemic, the name of the school would still be Vaughan Secondary." The committee voted 6-1 against Trustee Sherman's recommendation of Mary Ann Shadd. Then they turned around and voted for Hodan Nalayeh as the name to be put forward to the Board as a whole. On Tuesday March 2nd, the Board accepted the recommendation.
Hodan Nalayeh Secondary School has a strong ring to it. •
This article first published on the School Magazine website.
Endnotes