All Out: Policing, Racism and Our Collective Response
The recent murder of George Floyd in Minneapolis is the latest in a series of criminal acts by police departments against black people in the US, and it echoes the similar recent crime against the medical technician Breonna Tayler in Louisville, Kentucky, as well as the racist hate crime against the unarmed jogger Ahmaud Arbery, in Georgia.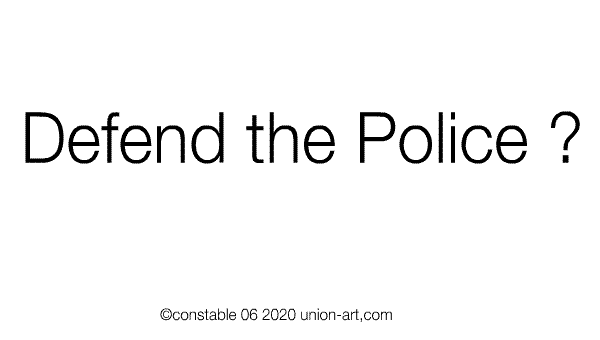 This violence against black people is a symptom of the deeper structural racism of capitalism, the state and society in the United States, and in Canada as well. While racialized forms of unequal access to jobs and wage disparities, deprivations in the provision of public housing and healthcare, and environmental pollution are endemic to capitalism, the global COVID-19 pandemic has hit racialized communities the hardest.
Because of this, the Socialist Project declares its unconditional solidarity with the multiracial working class uprising against racist state violence that has erupted up across the US. It is encouraging that, while led by African-American activists, there is growing solidarity and participation by other communities of colour as well as white Americans. While similar in some respects to previous waves of resistance in response to racist attacks on the rights of black people, their collective rage seems to have reached a new level of effectiveness and articulation, while the range of participants and supporters of the movement is growing, in spite of efforts by the right to demonize and limit it.
Canada and Toronto
As Canadian socialists, we stand in solidarity with the uprising in the US (and now global in its scope), knowing that Canadian society, too, has forms of structural racism. As in the US, police forces across our country, including the RCMP, are heavily armed and have a long history – not fundamentally altered today – of using unwarranted force against people of colour, especially those dealing with issues of mental illness. Moreover, these police forces have continued to perpetrate the state's colonization and genocide – cultural and physical – of indigenous peoples and First Nations territories. The recent murder of an indigenous woman in New Brunswick, Chantal Moore of Tla-o-qui-aht First Nation, and the humiliating and brutal treatment of an Inuk man in Nunavut who was slammed by an open car door by an RCMP officer, attest to continuing forms of oppression and brutality. These "law enforcement" institutions and their personnel have, for much of Canada's history, suppressed and undermined anti-racist movements and, in some instances, also disrupted and destroyed working class organizations and socialist struggles.
Toronto in particular has a long, sad history of racism, in its policing and in the structures of social life. Black citizens know well the constant harassment of 'carding' by police, and the extensive community harassment – and ultimate failure – that went along with the Toronto Anti-Violence Intervention Strategy (TAVIS). The recent death of Regis Korchinski-Paquet in the city is but the latest example of the inappropriateness of relying on the police to deal with issues that require adequate mental healthcare or other social services and supports. It also highlights the limits of the Special Investigations Unit (SIU) as an effective policing oversight body – especially with the rollback by the Ford provincial Conservatives to the moderate reforms of the SIU's operations proposed by the Liberals. This is not to mention the ongoing racial profiling of people of colour by police, and the harassment that has grown in step with the mobilization of TTC fare inspectors on public transit.
The COVID-19 pandemic has also delayed the trial of the off-duty policeman Michel Theriault, who, along with his civilian brother, is charged with aggravated assault against a black teenager who lost his eye in a brutal beating in Whitby.
What To Do With Policing?
The police, whether they are municipal, provincial or federal, are components of the repressive apparatus of the capitalist state, and they discipline and punish those who violate the rules that make profit-making possible. Even though Canada is not a dictatorship and the police enforce laws passed by elected representatives, their conduct is both enabled and limited by the framework of the capitalist state and economy. It is these formalized rules and procedures that grants police their legitimacy – and responsibility – to maintain social order and protect individual citizens against criminal activity and violence in society – activities and violence that are integral characteristics of capitalist societies with its deep, structural social inequalities. Workers, the oppressed and others have continually mobilized to attain, protect and expand the rights of freedom of assembly, speech, and association that are essential to the practice of democracy, and especially socialist democracy.
As a part of the coercive arms of the state, the police embody the violence that is necessary to sustain the status quo social order. In a society characterized by increasing racial and class inequalities, the police serve to protect the dominant social order and propertied "individuals" against threats to their interests, especially when given expression by the poor, the working class and unions. The police also prop up the ongoing settler colonial regime that continues to dispossess indigenous peoples. In this regard, the myriad people fighting for their individual and collective rights have constantly been antagonized, opposed and demobilized by the police.
Despite the formal limits and democratic controls placed on the police and the capitalist state in Canada, police in fact operate as a semi-autonomous centre of power, with massive weapons and resources at their command. The deployment of armoured vehicles and various military weapons have become commonplace across the country. The insulation and autonomy of policing agencies breeds an institutional sub-culture of authoritarianism, abuse of power and rampant racism. Efforts to place the police under the control of civilian oversight bodies (even when including representation from the working class and non-white communities) have been limited and ineffective.
The current cross-border uprising against police violence against people of colour, especially black and indigenous people, has awakened a larger set of demands for radical transformation of the functions of state policing and carceral practices, as well as policing institutions themselves. Given the pressure for fiscal austerity and social cuts that will surely follow the lifting of the COVID-19 emergency pandemic measures, the demands issued from racial and social movements have urged us to rethink our priorities and 'defund the police' as first step toward a more just society. We strongly support their demands, which include among others:
Immediate steps to dramatically reduce spending on policing, surveillance, and incarceration.
The funds from permanent cuts to police budgets should be allocated to community health services, homeless supports, community recreation programs, decent housing, and job creation policies.
Suspension of all new purchases of weapons, armoured vehicles, sound cannons, and the like that have been central to the expansion of militarized policing practices in both conflict situations and political demonstrations.
Formation of non-police emergency response units that are unarmed and serve as the first deployment to crisis situations involving mental health issues or domestic violence.
Decriminalization of drug use with a parallel expansion community health supports.
Elimination of all fare inspectors and police patrols on public transit.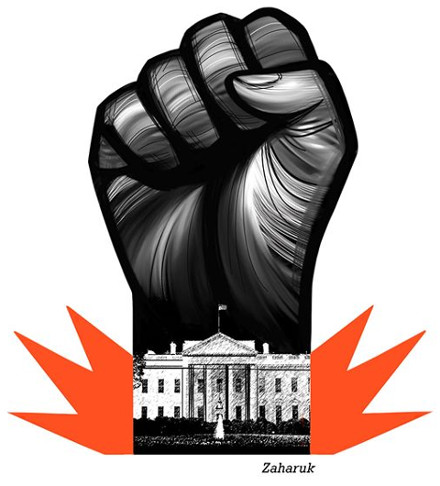 The power and relative independence of policing institutions, and their increasing militarization in their policing practices and weaponry, need to be immediately curtailed and replaced by democratic and community-based forms of conflict resolution and de-escalation guided by solidarity, mutual respect and equality. These kinds of reforms are essential to challenging the power of capital but are also limited by that power.
The labour movement is a key component of the working class and has often faced police violence in organizing, picketing, and enforcement of employer controls over workplaces and property. It has historically played an important role in fighting for democratic and policing reforms. The labour movement needs to step up and embrace the current struggle to fight institutional racism and to limit the power and autonomy of the police.
Any struggle for equality and democracy such as we have been witnessing on the streets of the US, and similar insurgencies in Canada, Hong Kong, Paris and elsewhere over the last year, has to have the control, subordination, dismantling and radical restructuring of coercive state agencies like the police as a central political task. •
UARR Calls for an Immediate Public Inquest into the Death of Regis Korchinski-Paquet
Urban Alliance on Race Relations
Say her name… Regis Korchinski-Paquet died in the presence of police officers in her Toronto home last week, her family barred from observing the circumstances.
The Urban Alliance on Race Relations calls for an immediate public inquest into the events that led to Regis Korchinski's untimely death, in the aftermath of the family's call for help to the Toronto Police Service. According to media reports, the family met Toronto Police officers outside the door to her apartment. When Ms. Korchinski-Paquet requested use of the bathroom, the police allowed her, but not her family, to re-enter the home. Her mother and her brother heard her calling for help, but the police continued to bar them from the apartment.
Decades of 911 calls to the police have resulted in the deaths of Black, Brown, and Indigenous people. These have been typically followed by SIU investigations, yet the deaths continue, resulting in little to no reprieve.
This is unacceptable.
The UARR is calling for a public inquiry, rather than an SIU report, because – due to past incidents – there is reason to believe that a Special Investigations Unit will not account for the broader context of systemic racism in policing that exists in this city. The SIU process requires confidentiality during the investigation and may prevent public access to police testimony. Such a report will not prevent the further disproportionate deaths of Black people experiencing mental health crises at the hands of the Toronto Police Service. An inquiry beyond the mandate of the SIU is one step to addressing the ongoing deaths that have arisen from such interactions. Anti-Black Racism within the justice system, including within policing has had devastating impacts on our Black communities in Toronto and across the country. Therefore, we call for a public review with the mandate to inspect the police budget and reallocate services and funds away from police that would be better delivered by a community-driven agency trained specifically to deal with mental health crises.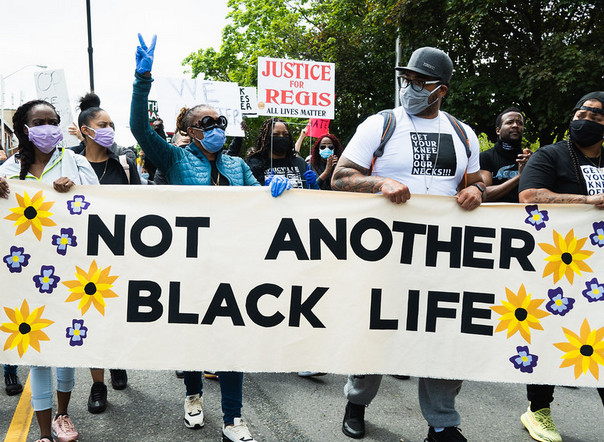 The City of Toronto is responsible for funding the Toronto Police Service and ensuring that it adheres to the City's Human Rights and Anti-Harassment Policy. If the TPS does not, the City must seek alternatives for appropriate and safe responses to people experiencing mental health crises. If there is a real commitment to addressing Anti-Black Racism within the City of Toronto, the City Council will need to act decisively and act now.
The Province has ignored Justice Tulloch's recommendations, the review of the Thunder Bay Police Service by the Office of the Independent Police Review Director, and an interim report by the Ontario Human Rights Commission (OHRC), which forms part of the OHRC's ongoing inquiry into racial profiling and discrimination by the Toronto Police Service. Additionally, till date, we are still waiting for the full implementation of the recommendations from the Inquest into the death of Andrew Loku.
UARR and other community groups have demanded police de-escalation training which has been reportedly implemented; yet this training did not help Regis. We have had enough reports and recommendations… We Need Action Now!
We are faced with a criminal justice crisis, a public health system crisis, and an economic crisis that has left many of us facing financial hardship.
We need an immediate stop to the disproportionate use of lethal force against Black people in Toronto, now during this pandemic and finally in a post-COVID-19 future.
This statement was first published on the Urban Alliance on Race Relations website.
CUPE Calls for Solidarity in the Face of Racism and Violence
Canadian Union of Public Employees
As more disturbing images and video footage of racism, white supremacy and violence emerge from the United States and Canada, the Canadian Union of Public Employees (CUPE) wants to offer our solidarity to the Black community and our racialized membership. We acknowledge and respect your rage, fear, pain and the trauma these images and real-life experiences invoke. We share your grief and outrage.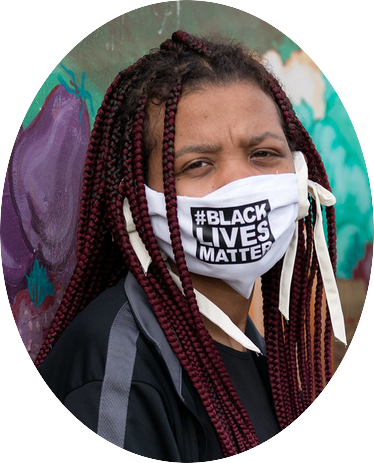 CUPE condemns these hateful acts and those who promote violence and racism. On May 26, 2020, George Floyd, an unarmed black man, was killed by Minneapolis police. This is yet another heartbreaking example of systemic racism and police brutality. That same day, we saw video footage of a white woman who weaponized anti-black racism and exerted her power and white privilege over an innocent black man in New York's Central Park.
The subsequent violent crackdown on the black community and allies calling for justice and carrying signs reading "Black Lives Matters," "Justice for George Floyd," and "Justice for Breonna Taylor" is beyond comprehension, but not surprising.
CUPE has recently reported that marginalized workers are already at greater risk of experiencing workplace violence and harassment, and research shows that violence and harassment spikes during times of crisis. There are increasing racist attacks and violence against Asian communities, since the COVID-19 crisis. Black, racialized and Indigenous communities, already at risk for oversurveillance, are at even greater risk as governments increase policing, hate groups incite violence, and everyday microaggressions and racial profiling intensify.
We must challenge and not be silent in the face of police brutality, white supremacy, and all forms of racist violence in the workplace and in our society. CUPE will remain vigilant in our efforts to ensure diversity and inclusiveness and to fight racism and hate in all its forms. •
This statement was first published on the CUPE website.
Anti-Black Racism Runs Deep But So Does Our Commitment Toward Combatting It
Canadian Labour Congress
Amid the horrific scenes coming out of the United States of continued police brutality against protesters in the aftermath of the murder of George Floyd, Canada's unions are expressing solidarity with Black communities everywhere, including in our own backyard.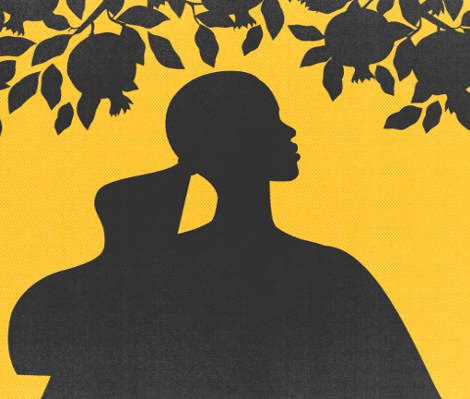 The fight against anti-Black racism and police brutality is based in the long, despicable history of slavery, oppression and colonization of Indigenous communities and Black people in North America. The impact of which continues to be felt today.
There is no reason that Black people in Canada should die at the hands of our police services. Yet the deaths of Black Canadians, Abdirahman Abdi, Bony Jean-Pierre, D'Andre Campbell and most recently under investigation, Regis Korchinski-Paquet, demonstrate that anti-Black racism continues to be a leading cause for the loss of Black lives.
"Anti-Black racism is a destructive force in our society afflicting families and communities," said Hassan Yussuff, Canadian Labour Congress (CLC) president. "Canada's unions are committed to fighting all forms of discrimination and are urgently calling for accountability and systemic change."
It's important to highlight the severe lack of mental health supports, the lack of access to prescription medication and poor working conditions facing many workers who are often Black and racialized. Research clearly shows that Black communities have diminished health outcomes compared to the broader population as a result of historic neglect on the part of our system. This is playing out in this current pandemic, with early indications of a disproportionate impact on Black, Indigenous and other racialized communities.
"It's time to hold some very uncomfortable conversations and reflect on the policy decisions and choices that have led us here," continued Yussuff. "The whole country is looking to our government for leadership and immediate action that will lead to real and meaningful changes in the way Black communities are treated."
The CLC is committed to raising awareness on the role of Canada's labour movement to combat anti-Black racism, including providing educational opportunities to union members, as well as to the broader public, and publicly advocating for accountability and systemic change at the policy level. •
For further reading related to anti-Black racism in Canada:
This statement was first published on the CLC website.
George Floyd's Words a Reminder of the Racism and Hatred Yet To Be Overcome
Amalgamated Transit Union
Amalgamated Transit Union International President John Costa issued the following statement in reaction to the death of George Floyd in Minneapolis, MN:
"We are deeply disturbed and angered by the tragic death of George Floyd, an African-American who was held, handcuffed, on the ground by a white Minneapolis police officer who kneeled on Floyd's neck as he pleaded, "I can't breathe."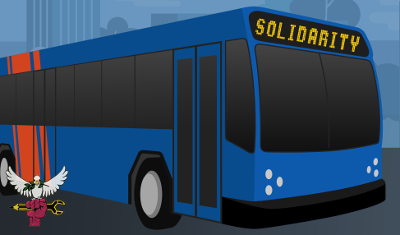 "Those all-too-familiar words, first uttered by Eric Garner, an African-American who was suffocated during a 2014 arrest by a white New York police officer, come as a tragic reminder of the injustice inflicted on persons of color every day in the United States.
"We as a nation must not tolerate the brutality on display in this ugly event, nor can we continue to abide the hate and racial profiling that make awful incidents like this all too common.
"We are calling for a full and independent investigation into Floyd's death, and for appropriate action to be taken to ensure that justice is served.
"Furthermore, as our members – bus drivers – have the right to refuse work they consider dangerous or unsafe during the pandemic, so too Minneapolis bus drivers – our members – have the right to refuse the dangerous duty of transporting police to protests and arrested demonstrators away from these communities where many of these drivers live. This is a misuse of public transit.
"The Amalgamated Transit Union has a long history of fighting for social justice as well as the rights and equal treatment of all people regardless of race, gender, religion, or sexual orientation.
"If any good is to come of this, we in the labor movement and the nation must unite to stop the systemic cycle of injustice, racism and hatred that plagues our country." •
This statement was first published on the ATU website.