As Canadian prime minister Stephen Harper was mixing it up with world leaders at the funeral service for Nelson Mandela, his government at home dropped a bombshell, a shocker. Harper's government wants Canada to become the first advanced capitalist country to eliminate door-to-door postal delivery. The stealth announcement by Canada Post was also timed to follow the Christmas adjournment of Parliament. The Canadian Union of Postal Workers (CUPW) and its 54,000 members were not consulted.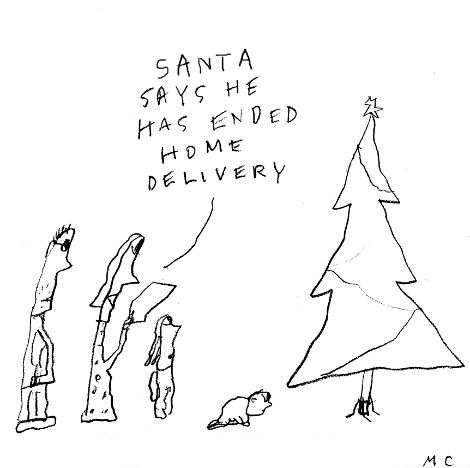 The government is trying to frame public discussion of the proposal into one of the "cost" of operating the postal service. Willing media is buying into that frame. This is an effort to confuse and distract attention from the fact that like so many other things in modern life – education, health care, social welfare and retirement pensions – postal operations should be and must remain an essential public service.Canada Post's spin on this was voiced by spokesman Jon Hamilton, who is quoted in the Globe and Mail as saying, "[Canadians] want to pay for the system as a user, not as a taxpayer."
Higher Fees for Less Service
Canada Post will replace house and office delivery of mail with "community" collection boxes, most of which are outdoor. This is already widely practiced in new housing developments. Quite aside from the gross inconvenience of such a service and the terrible littering that occurs around these boxes (Canada Post makes big bucks from delivering junk mail but refuses to provide paper-recycling receptacles at its "community" box locations), it is dangerous and regressive for seniors or anyone with restricted mobility. The service is also proven to violate the privacy of citizens because the boxes attract thieves and vandals.
What's more, postal delivery workers are an essential part of the social fabric that keeps citizens safer and in better communication with each other.
The agency says deliveries to apartment and condominium buildings will remain unchanged.
To bamboozle public opinion on the matter, Canada Post and the government say that only "one third" of Canadian households receives door-to-door mail delivery. The number is a fraud. According to figures that Toronto Star columnist Thomas Walkom has reported, additional, direct delivery recipients include 3.8 million apartment and condo dwellers (they get their mail delivered to their lobby), 739,000 rural residents (delivered to their roadside mail boxes), and 1.8 million small town or rural residents who have traditionally received their mail from their local post office. The new, outdoor mail box system that Canada Post wants to generalize presently delivers to 3.9 million households.
The other announcement made by Canada Post on December 12 is a zinger of an increase in the price of stamps – by 35 per cent for booklet purchases or 59 per cent for individual stamp purchases. This will hit small businesses quite hard.
Paradoxically, the Canadian government treats postal services as "essential" when it confronts employee concerns and interests. The last time that postal workers went on strike, in June 2011 (rotating strikes), the government outlawed their action with Bill C6. The law declared postal operations to be an "essential" public service. This was only the latest in a long string of federal legal declarations defining the service as essential and thus proscribing the right to strike.
What About the Pensions?
One of the financial "burdens" of operating a postal service from which the government and Canada Post can be expected, over time, to divest themselves is the employee pension plan. Like so many other pension plans by public and private corporations in Canada, this one is grossly underfunded. It's a whopping $6.5-billion in the hole, according to a Toronto Star report.
The federal government has gone along with the decisions of many of Canada major public and private corporations to violate their legal obligations to fund their pension plans. General Motors and Air Canada are among the many firms that have received special dispensation. The government is now intervening to ease Canada Post's obligations. Jon Hamilton said yesterday that the intention to cut door-to-door delivery is part of a plan "to transform the company and transform the pension plan."
Informative articles on the Canada Post announcement have appeared. One is by David Bush, an editor of the online journal Rank and File. It is titled, "The battle at Canada Post and the future of our public services."
The Toronto Star has published informative items, including:
There has been a lot of talk in and around Ottawa of late of the need for big improvements to the Canada Pension Plan. Two provincial governments – Ontario and PEI – have mused that if Ottawa doesn't act, they may create their own supplementary public pension plans. Ottawa has steadfastly refused for years to make improvements.
It is highly unlikely that any group of provinces would act independently of Ottawa. And in any event, such action would be beside the point. What is needed are mass protests by unions and pensioners on Parliament Hill to press for CPP improvements. National unions have been stalling on this for years.
Isn't it time, now to join with postal workers in protests across the country to defend the whole range of federal services being gutted by the government, from pensions and postal services to unemployment insurance and scientific research and policy? CUPW has declared, "The Canadian Union of Postal Workers will work with our community allies and fight back against Canada Post management's unilateral decision to cut delivery services." •