USW and the Fiasco at Dofasco
Rumours had been swirling for a few weeks about "a big one." Then, on March 18, United Steelworkers (USW) Ontario District 6 Director Wayne Fraser and Dofasco/Mittal management both broke the news. Within a couple of days, Steelworker representatives would be allowed into the various Hamilton plants of this notoriously anti-union steelmaking
enterprise. They would chat to workers informally, one-on-one and in small groups, listen to their concerns, and see if they were interested in joining the union. The process would be
patient, not rushed. If it deemed the reaction of workers to be sufficiently positive, the union would arrange for the election of a committee of Dofasco workers to sit down with union staff and the company and negotiate a tentative collective agreement. If the workers then voted to ratify the deal, the company would recognize the USW as their bargaining unit. Although unorthodox in its genesis, the promise was that the future relationship between the parties would revert to a traditional one: elected stewards and negotiating committees, a proper grievance and arbitration process, contract ratification, the right to strike, and so on.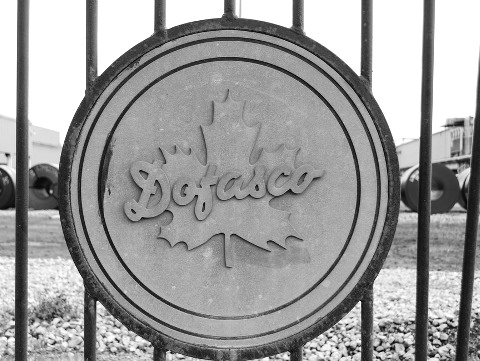 An unspoken message within District 6's announcement was aimed at the Canadian Auto Workers (CAW) and its recent controversial "Framework of Fairness" at Magna. USW glee was barely hidden. Steel 'can think outside the box,' was the word, and strike a deal with a company even more historically formidable than Frank Stronach's, without sacrificing genuine representation for its dues-paying members. There was an additional kicker: Dofasco's "neutrality" (actually its acquiescence) had been negotiated by the so-called 'International Union' down in the USA, where the expanding Arcelor-Mittal empire now owns a huge chunk of North American's restructured steel industry and has inherited dozens of contracts with the USW. In other words, unions with a narrow 'national' focus are less geared to the requirements of this increasingly globalized world.
It was a mind-boggling development, a coup out of the blue. It turned Hamilton on its ears. Dofasco? Union? The Steel Capital had been a "two company" town forever it seemed. Both Stelco (in 1910) and Dofasco (1912) – founded as deliberate acts of national industrial policy with the help of the Canadian state – had local manufacturing roots going back another half century. They became tweedledum and tweedledee on the waterfront, night and day, union and non-union, troubled and profitable. Stelco workers had joined the Steelworkers in 1946, after a long, bitter, heroic recognition strike. Succeeding years saw a series of tough negotiations, classic industrial labour disputes and militant actions which often pitted the local leadership against their own District 6 staff. By contrast, Dofasco stood steadfastly above the fray, defiantly unorganized. Its owners, the Shermans, were deeply anti-union. Successive organizing drives, increasingly half-hearted, were thwarted by various repressive tools, but more significantly by a systematic policy of cooptation. Wages and benefits won at Stelco were matched dollar for dollar by those granted at Dofasco. Worker-involvement schemes, a recreation park, 'profit-sharing,' 'team-building,' the famous Christmas Party and a torrent of propaganda built a 'familial' workplace culture over several generations. Indeed a community culture: there were Stelco families and Dofasco families. A significant block of Dofasco workers thus became stubbornly impervious to the idea of unionization. Over time, as the company became more nimble and financially successful than Stelco, it attributed this to the differences in labour relations ('modern' vs 'archaic'). Prosperity, it implied, meant keeping a union out, and a lot of workers swallowed that.
Restructuring the Steel Industry
Though sensational in its suddenness, the March 'coup' did not entirely come out of left field. Technological advances have steadily shrunk the huge workforce at both enterprises to a fraction of their former size. Stelco had 20,000 unionized workers in 1946, but fewer than 5,000 nowadays. Dofasco also grew much slimmer, mainly by attrition, while production at both enterprises has increased significantly. Over the past three years, worldwide restructuring in the steel industry, as a result of neoliberal corporate globalization, has led to each one of Canada's several steel companies being sold off to foreign multinationals. The federal government dropped any pretence of protecting Canada's steel industry as part of a deliberate industrial strategy and let them all go. In 2006, the fiercely independent Dofasco became part of the European-Indian colossus Arcelor-Mittal. Last year it was Stelco's turn – after a 2-year brush with bankruptcy protection – swallowed by the giant US Steel.
This dramatic change of global circumstances and local ownership certainly shook the workers' applecart at Dofasco. The old cosy but slick, cooptative Canadian management was replaced by a new generation of leaner, meaner executives, following a new corporate mantra and tightly answerable to offshore headquarters. The unthinkable – large-scale layoffs – loomed as a distinct possibility. There were new questions about 'profit-sharing' and revised work methods. Employees were becoming unsure about the company's future. Old certainties were evaporating.
Nevertheless, for the company to suddenly invite union representatives inside its walls, where before it would have set the dogs on them, was astounding. The original owners, the Sherman family, would be churning in their galvanized steel vault. Dofasco's former management team, notably ex-CEO John Mayberry, replaced in the 2006 takeover, denounced the deal in the Hamilton press as an act of 'betrayal.'
What unfolded next was just as dramatic. It was, let us say, 'a whirlwind campaign.' Union representatives were greeted with deep-seated, vituperative hostility from the employees. So intense was the hostility, in fact, that on March 27, barely a week after it began, the union cut bait, pulled all its organizers, and put the drive "temporarily on hold."
Dofasco Workers
So what happened, and what are the lessons?
The union was naive if it believed that the ingrained deference of Dofasco workers to their company would translate into deference to the (new) company's sudden suggestion that they listen to overtures from the union. Did the USW really imagine, like Donald Rumsfeld in Iraq, that the liberated inhabitants of the workshops would strew the aisles with flowers? After all that Hamilton history? Deference to Dofasco always went hand-in-hand with scorn for unions and specifically for the Steelworkers at Stelco. And trust in the company was under serious review. What were the new owners up to? As union reps strolled from department to department, machine to machine, looking for a chat on the red carpet, many workers understandably smelled a rat, a set-up, a done deal arranged over their heads. The Hamilton Spectator – amid a barrage of joyous 'told-you-so's' – quoted one worker as saying that, if they were going to have a union, they would decide that for themselves, including when and which union, not have the company decide for them. From their interactions with Stelco counterparts down the years, Dofasco workers had imbibed a certain distrust of corporate intrigue and of union brass, and this sudden 'coup' was too much to take at face value. Now they rejected the company along with the USW.
The union also made elementary mistakes. The International sealed the deal in Pittsburgh, but inevitably had to hand it over to District 6 to implement. The District 6 campaign began with a joint letter to workers from Arcelor-Mittal CEO Jürgen Schachler and USW Director Wayne Fraser, an apparent signal that 'the fix was in.' Before that development had time to sink in, the wooing began immediately, without foreplay, too hasty, blatant and clumsy. The union handpicked a team of full-timers to send in, including the Director himself, to talk to the workers. These were not shop-floor steelmaking activists. Seasoned members of Local 1005 at Stelco – fresh from their successful, militant struggle against the CCAA (Companies' Creditors Arrangement Act) and attempts to plunder their pension fund – were kept in the dark and uninvolved. They knew most of the issues, and had ties with pro-union groups within the plants, but were conspicuously kept in quarantine throughout. Those who were sent in were ill informed about Dofasco realities, processes and concerns. Reportedly, they talked in generalities about what a union could or might do, rather than nailing specific workplace issues from their own experience.
Neutrality Agreements
But the lessons for organizing are much broader than this. The first, simple one is that there are no short-cuts. If a situation looks too good to be true, it probably is. Which raises questions about the deal with Arcelor-Mittal, the 'neutrality agreement' itself. Bosses are almost always the enemies of unionization and nowadays they adopt ever-more-sophisticated methods of scaring workers, undermining union support and driving campaigns into the ditch. To defuse, prevent or offset this kind of hostility is a definite bonus for union organizers. So-called "neutrality agreements" – whereby a company is persuaded to stand back during a certification attempt and "let the workers decide", not intervene to dissuade them – are a pleasant relief for organizers, freeing them from torrents of bullshit. However, our target, our battle, our primary task remains to win over the hearts and minds of the workers, our potential members, not of management. A 'neutrality' deal can only be a sidebar to, not the centrepiece of, a certification drive. The hard slog of leafleting outside the gates, going house to house, arranging small-group worker-to-worker meetings in homes, coffee-shops, taverns or mosques, is still required. Inside committees need to be formed, cards released carefully and confidentially, contacts built up department by department. Such a process builds legitimacy, provides feedback, develops leaders, and ensures that the pivotal local issues are understood. It also makes it clear that solidarity vis à vis the employer is the key to future progress.
A company – even when used to compliance, and endowed with employee goodwill – cannot deliver its workers cold into the arms of a designated bargaining agent, unless it's a done deal with a yellow in-house union or a bogus pre-emptive arrangement with the likes of the Christian Labour Association of Canada. Even if a legitimate union "succeeds" in such a manner, the result of short-circuiting the democratic involvement of the workers will almost certainly be apathy and lack of involvement, a union in name only. There are certainly campaigns like 'Justice for Janitors,' where organizing cannot realistically be done on a workplace-by-workplace and worker-by-worker basis. Unions like SEIU then stage major community mobilizations and publicity campaigns – perhaps citywide or nationwide – to force large-scale employers to grant voluntary recognition or at least "neutrality" for all their employees. This has proven an effective way to achieve collective representation under such circumstances. But by-passing member involvement at the sign-up stage still creates future difficulties in getting workers truly involved and engaged.
A second lesson is that campaigns should be steady, under-the-radar, low-key. They shouldn't be proclaimed ahead of time from the rooftop of union headquarters – especially with the company logo on the letterhead. As my granny used to say, don't count your chickens before they're hatched, or you end up with egg on your face. Competitiveness between individual unions must not be allowed to distort campaign strategies.
Arcelor-Mittal's operations in Hamilton may well become unionized before too long, as conditions continue to evolve within and without. And the Steelworkers are the obvious union to do it. Their aborted Do-fiasco this March has undoubtedly set things back for a year or two, and serious lessons have to be absorbed before a new attempt is made. The next campaign will have to be done the hard way, patiently, modestly, from below. And in conjunction with the other Steelworkers, community allies, and the rest of the labour movement in Hamilton and beyond.
If the company can be persuaded that it's in its own broader interest not to resist this, so much the better. But our focus has to be on the workers themselves, their fears, their pride, their hopes, their needs. Not on the boardroom, not on the headlines. •