From Neo-Liberalism to Neo-Fascism? Reaction across the Americas from Bolsonaro to Trump
Thursday, March 28, 2019 / 7:00 pm

-

9:00 pm

EDT

pwyc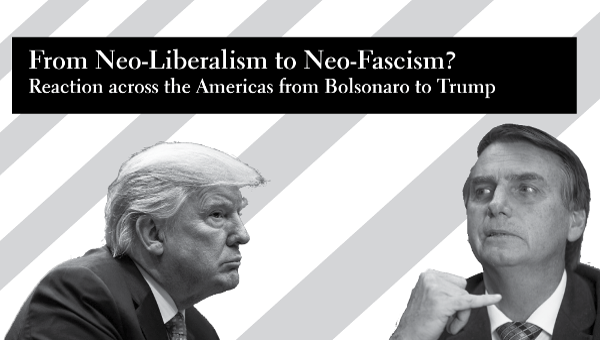 Join us for a discussion with a panel of leading international analysts associated with the Socialist Register.
Ana Saggario Garcia, Federal Rural University of Rio de Janiero (author of 'Brazil's New Imperial Capitalism' and 'Amplifying the contradictions: The centrifugal BRICS')
Ray Kiely, Professor of Politics at Queen Mary University of London (author of The Neoliberal Paradox; 'Locating Trump: Paleoconservatism, neoliberalism and anti-globalization')
Ruth Felder, State University of New York at Albany (author of 'South American post-neoliberalism and external restrictions: The case of Argentina').
Chaired by Leo Panitch, Senior Scholar York University (co-editor Socialist Register 2019: A World Turned Upside Down).