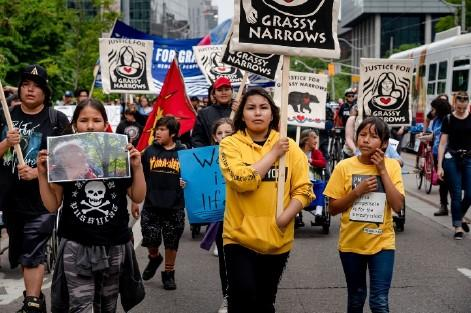 Grassy Narrow and four allied nations are coming to Toronto to march against mining on their land without their consent.
It is a concrete example of the ongoing colonialism, and Indigenous resistance, and an opportunity for settlers to be on the right side of history by supporting that resistance.
At 12 pm, Wednesday, September 27th, 2023 five First Nations from Northern Ontario will come to Grange Park, Toronto to lead a march calling on Premier Ford to end unwanted mining activity on their Territories.
These five strong First Nations have formed a historic alliance to protect their lands and waters from increased encroachment by mining companies who have been enabled by the Ford Government.
This is a family-friendly event. Rain or shine!
BACKGROUND
Prospectors have staked thousands of new claims on these First Nations' territories since Ford came to power. They are exploiting Ontario's antiquated "free entry" mining system that allows companies and individuals to stake mining claims on First Nations lands from the comfort of their offices, without gaining the consent of the Indigenous people who live there.