The Financial Crisis: a Socialist Perspective
Montreal, February 21, 2009. A strategy with short and medium term demands, geared to fostering the relation of forces necessary to move beyond capital. Presentation by Sam Gindin. Introduction by … Watch video »
Montreal, February 21, 2009.
A strategy with short and medium term demands, geared to fostering the relation of forces necessary to move beyond capital. Presentation by Sam Gindin.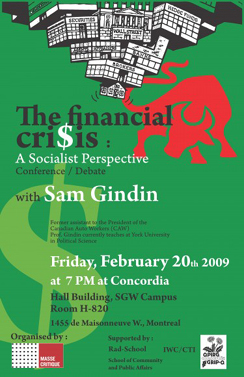 Introduction by Roger Rashi
I am a member of the organizing committee of Masse Critique, which is a collective inside Quebec Solidaire dedicated to popular education over three major themes: a critique of the capitalist system; ecosocialism; and of course support for the people's struggles and anti-imperialism.
These are the three great themes our group is working on mostly trough conferences and with movie projections under the name Ciné-militant. This morning activity is supported by Gauche Socialiste and our comrade David Mandel has been crucial in the organization. We thank David for his support.
This morning we have with us Sam Gindin. For those who do not know him, he is not only an intellectual but more important he was a trade union militant for over a quarter of century from 1974 to 2000. He was an economic advisor attached to the president of the CAW. Sam was also the advisor to president Bob White and Buzz Hargrove.
Sam represents this type of intellectual which can not only analyze the economic crisis but who can as well indicate venues for action and ways of struggle. As I had the privilege to hear Sam's presentation yesterday, he develops three major points.
the function of financial capital in today's capitalism and it's impact on popular struggles
he underlines the importance to attack financial capitalism and discuss the nationalization of the banks
he develops ideas on how to unify popular and trade union struggles against capitalism.
I present you Sam Gindin, thanks