Social Democracy After the Cold War
Edited by Bryan Evans and Ingo Schmidt, published by AU Press. Guest speaker: Leo Panitch. Offering a comparative look at social democratic experience since the Cold War, the volume examines … Watch video »
Edited by Bryan Evans and Ingo Schmidt, published by AU Press. Guest speaker: Leo Panitch.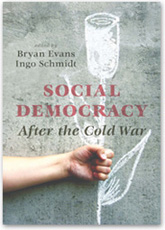 Offering a comparative look at social democratic experience since the Cold War, the volume examines countries where social democracy has long been an influential political force – Sweden, Germany, Britain, and Australia – while also considering the history of Canada's NDP, the social democratic tradition in the United States, and the emergence of New Left parties in Germany and the province of Québec. Once marked by redistributive and egalitarian policy perspectives, social democracy has, the book argues, assumed a new role – that of a modernizing force advancing the neoliberal cause.
The book is available as PDF download.
Recorded in Toronto, 19 September 2012.