Global Day for Climate Justice
Saturday, November 6, 2021 / 1:00 pm

-

3:00 pm

EDT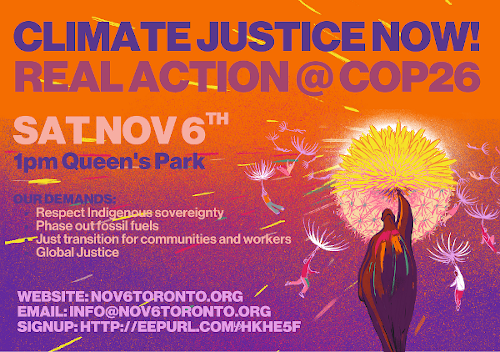 The Toronto Global Day of Action for Climate Justice is being organized by a coalition of environment and justice organizations and individuals in Toronto. It is timed to coincide with the COP26 (international climate summit) meetings in Glasgow, Scotland, and a worldwide network of actions.
Call to Action
Justice won't be handed to us by world leaders or delivered by corporations. Only we can imagine and build the future that works for all of us.
The Issue
We are living through a period of multiple breaking points – from climate to Covid to racism. We know that these crises not only overlap, but share the same cause.
While no one can escape the impacts of these crises, those who have done least to cause them suffer the most. Across the world, the poorest people and communities of colour are too often those bearing the brunt of the climate crisis. From coastal villages in Norfolk whose sea-defences are eroding faster than ever, to people living by the Niger Delta rivers blackened by oil spillage.