58th Edition of Socialist Register:
New Polarisations, Old Contradictions: The Crisis of Centrism
Monday, February 7 / 9:00 am

-

Saturday, March 12 / 9:00 pm

EST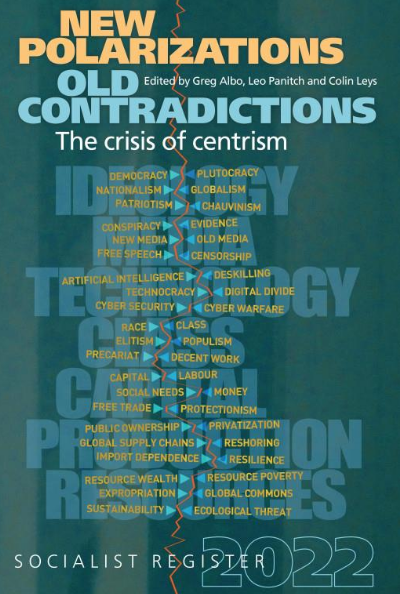 The 58th annual volume of the Socialist Register takes up the challenge of exploring how the new polarizations relate to the contradictions that underlie them and how far 'centrist' politics can continue to contain them. Original essays examine the multiplication of antagonistic national, racial, generational, and other identities in the context of growing economic inequality, democratic decline, and the shifting parameters of great power rivalry. Where, how, and by what means can the left move forward?
Edited by Greg Albo, Leo Panitch, and Colin Leys.
SIMON MOHUN: A contemporary portrait of neoliberalism: The rise of the one per cent
WALDEN BELLO: At the summit of global capitalism: The US and China
INGAR SOLTY: Market polarization means political polarization: Liberal democracy's eroding centre
BILL FLETCHER, JR.: Trump and the danger of right-wing populism in the US
MARCUS GILROY-WARE: What is wrong with social media? An anti-capitalist critique
ADOLPH REED JR., TOURÉ F. REED: The evolution of 'race' and racial justice under neoliberalism
SAMIR SONTI: The crisis of US labour, past and present
SAM GINDIN: American workers and the left after Trump: Polarized options
JAYATI GHOSH: Pandemic polarizations and the contradictions of Indian capitalism
VISHWAS SATGAR: Epidemiological neoliberalism in South Africa
ILYA MATVEEV, OLEG ZHURAVLEV: Loft offices and factory towns: Social sources of political polarization in Russia
ANA GARCIA, VIRGINIA FONTES, REJANE HOEVELER: The far right, corporate power, and social struggles in Brazil
SAMIR GANDESHA: Identity crisis: The politics of false concreteness
DAVID HARVEY: The double consciousness of capital
JAMES SCHNEIDER INTERVIEWED BY HILARY WAINWRIGHT: Finding a way forward: Lessons from the Corbyn project in the UK
Permanent online access to the current volume, plus access to all previous volumes as long as a subscription remains current £25. PDF poster.