Book Launch: The Diary of Dukesang Wong: A Voice from Gold Mountain
Tuesday, November 10 / 7:00 pm

-

8:30 pm

EST

free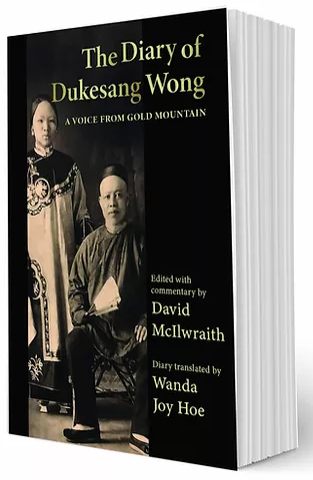 Join us on Tuesday November 10th for the launch of The Diary of Dukesang Wong: A Voice From Gold Mountain ​(Talon Books, 2020), with editor and author David McIlwraith, as well as Judy Fong Bates and other guests.
The Diary of Dukesang Wong: A Voice From Gold Mountain is the only known first-person account from a Chinese worker on the famously treacherous parts of transcontinental railways that spanned the North American continent in the nineteenth century.
Dukesang Wong's written account of life working on the Canadian Pacific Railway, a Gold Mountain life, tells of the punishing work, the comradery, the sickness and starvation, the encounters with Indigenous Peoples, and the dark and shameful history of racism and exploitation that prevailed up and down the North American continent.
The Diary of Dukesang Wong restores a lost central voice to a foundational episode in Canadian history – one that changes our understanding of the history it recounts.
"Wong's voice brings to light the haunting chronicles of thousands of Chinese people in North America who suffered immensely in an inhospitable, racist society" – Jenny Kwan, MP for Vancouver East.