Organize to Fight Ford's Assault on Workers, Now!
Thursday, September 20, 2018 / 7:00 pm

-

9:00 pm

EDT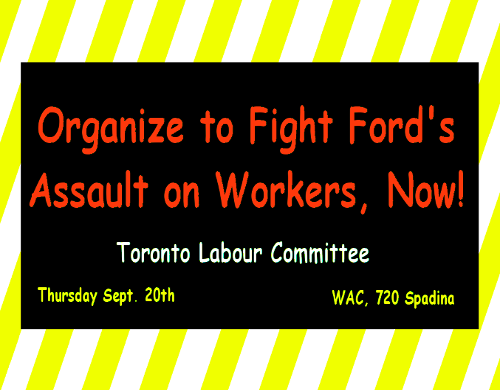 Doug Ford's conservative government is preparing for an attack on public sector workers and minimum wage workers. We need to start building resistance to Ford within and outside of our workplaces, NOW. If you are interested in participating in the fightback against Ford, please join the Toronto Labour Committee (TLC) meeting for a strategic discussion, with brief presentations by Sam Gindin on Ford's impending attacks and Paul Gray on the TLC.
Thursday September 20th, 7-9 pm
Location: Workers' Action Centre, 720 Spadina Ave., 2nd floor, Suite 202, Toronto.
Please RSVP at torontolabourcommittee@gmail.com
Agenda:
Approve proposed agenda. Introductions (5 mins.)
What is the Toronto Labour Committee? (10 mins.)
How Ford will try to turn minimum wage workers and public sector workers against each other (5 mins.)
Guest speaker: Natalie Mehra (Ontario Health Coalition) on Ford's coming attack on health care workers (20 mins.)
Open strategy session (1 hour)
i) people from around the labour movement will speak about how Ford will attack our workplaces
ii) how can we organize the challenge to Ford in our own workplaces and unions?
Introducing the TLC's workplace organizing training course (5 mins.)
Next steps (20 mins.)