The 1919 Winnipeg Strike
Friday, September 20, 2019 / 12:00 am

-

2:00 am

EDT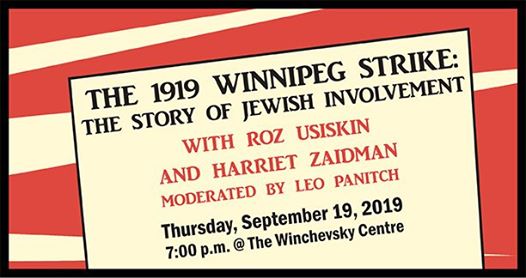 The Story of Jewish Involvement in the 1919 Winnipeg Strike, with Roz Usiskin and Harriet Zaidman. Leo Panitch of The Socialist Project will moderate.
Roz Usiskin was the first president of the Jewish Heritage Society of Western Canada and a past president of UJPO-Winnipeg. Her father, Joseph Wolodarsky, was a strike participant. Usiskin published two books of her father's letters that she translated from Yiddish. Her father had written "…someday, the historian may look into my archives as a record of our history."
Harriet Zaidman is a UJPO-Winnipeg member and author of the novel, "City on Strike," based on the events in 1919. Her family was greatly affected by the strike. Copies of this book will be available at the event. Zaidman is also author of two children's books, Daisy's Biggest Success, and Sherman and the Sheep Shape Contest.
Leo Panitch is a professor of political science at York University and the co-editor of the Socialist Register. He is co-author, with Sam Gindin, of The Making of Global Capitalism: The Political Economy of American Empire.