Rights Against the Machines
Wednesday, February 26 / 10:30 am

-

12:30 pm

EST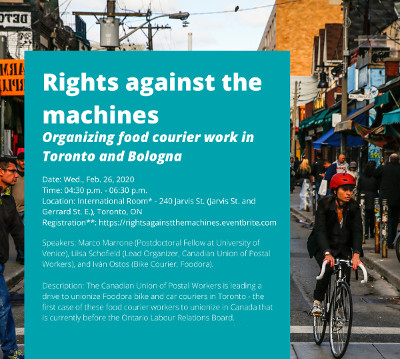 Organizing Food Courier Work in Toronto and Bologna
The Canadian Union of Postal Workers is leading a drive to unionize Foodora bike and car couriers in Toronto – the first case of these food courier workers to unionize in Canada that is currently before the Ontario Labour Relations Board. In Bologna, Italy, the Riders Union Bologna, representing food delivery workers in that city, has recently met with some degree of success. This panel discussion will explore the experiences of both campaigns in an effort to learn more about how unionizing can transform working conditions within the context of a rapidly emerging platform capitalism.
Speakers: Marco Marrone (Postdoctoral Fellow at University of
Venice), Liisa Schofield (Lead Organizer, Canadian Union of Postal
Workers), and Iván Ostos (Bike Courier, Foodora).
This event is co-sponsored by Ryerson University's Faculty of Arts, and Ryerson University's Centre for Labour Management Relations.
Event organizing assistance provided by Mark Thomas (Associate Professor at York University) and Bryan Evans (Professor at Ryerson University) | PDF poster.