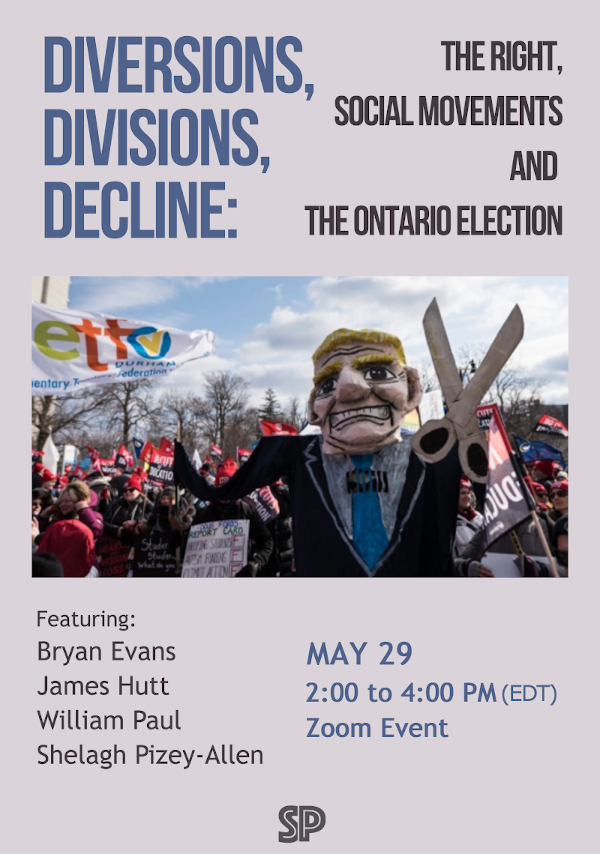 The Right, Social Movements, and the Ontario Election
Democracy in Ontario? Only the naïve and those standing to gain from the political spoils are refusing to concede that electoral democracy is rotten to its core in Ontario. Since the 1990s, the neoliberal policy regime of 'free markets', low taxes, cuts to social provisioning, and more money for policing have dominated the agenda at Queen's Park.
Since being elected in 2018, after almost 15 years of rule by the Liberal Party, Doug Ford and his Conservative government have pushed this agenda even further to the right. In the last election, Ford promised a 'buck a beer' and to 'open the province for business'. This time Ford is promising 'roads, roads, roads' and offering his 'drivers' coalition' a few dollars in a license plate rebate.
There will also be a lot more of the same – more privatization of healthcare, a continuing crisis in long-term care, minimal gestures to address climate change, a continued slide in social programs (already the worst in Canada), and an erosion of working-class living standards. It is far from clear what the Liberals and NDP are putting forward that would offer much more than this or that improvement on the existing declining state of democracy in Ontario. What are Ontario social movements campaigning for and assessment of post-election struggles? Where are the prospects for a revival of the left and socialism in the mounting class and social divisions in post-democracy Ontario?
Speakers:
Bryan Evans teaches at Toronto Metropolitan University and is the co-editor of Divided Province: Ontario Under Neoliberalism.
James Hutt is a union activist and currently works at the Canadian Association of University Teachers.
William Paul is an educational activist editor of the website School Magazine.
Shelagh Pizey-Allen is Director of TTCriders in Toronto.