Workers' Struggle in Palestine
Saturday, May 30, 2020 / 1:00 pm

-

3:00 pm

EDT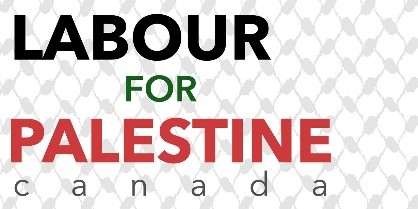 Join Labour4Palestine – Canada for a webinar with labour leaders and activists in Palestine about the conditions of workers, the impact of the Coronavirus on them and their families. Hear directly from Palestinian activists about what you can do to support their ongoing struggle against Israel's land grab and continuing ethnic cleansing.
Lutte des travailleurs et travailleuses en Palestine
Labour4Palestine – Canada vous invite à un webinaire avec des dirigeant.e.s syndicaux et des militant.e.s en Palestine sur les conditions des travailleuses et travailleurs et l'impact du Coronavirus sur eux/elles et leurs familles. Des militants et militantes palestiniens prendront la parole afin d'expliquer ce que vous pouvez faire pour soutenir leur résistance à l'exploitation dans le contexte de l'occupation militaire israélienne et du régime d'apartheid, de l'accaparement des terres par Israël et du nettoyage ethnique qui se poursuit toujours.
Speakers:
Samia Al-Botmeh – Assistant Professor in Labour Economics and the Dean of the Faculty of Business and Economics at Birzeit University in Palestine / Professeure adjointe en économie du travail et doyenne de la faculté des affaires et de l'économie de l'université de Birzeit en Palestine
Jamal Juma – Executive Committee Member of the Palestine New Federation of Trade Unions and Secretariat Member of the Boycott National Committee (BNC) / Membre du comité exécutif de la Nouvelle fédération des syndicats de la Palestine et membre du secrétariat du Comité national du boycott (BNC)
Abbas Milhem – Executive Director, Palestinian Farmers' Union (PFU) / Directeur exécutif, Union des agriculteurs palestiniens (PFU)